The Alhambra theater was a lively fixture in its community of southeast Portland, for better or worse. One evening the house could be packed with organized mothers hellbent on doing their civic damnedest to raise money for the children during a violin-laced PTA benefit show (so long as the musicians are not on strike). Another day, you might find yourself nonplussed as a charismatic street urchin robs you before making a swift getaway via a passing streetcar.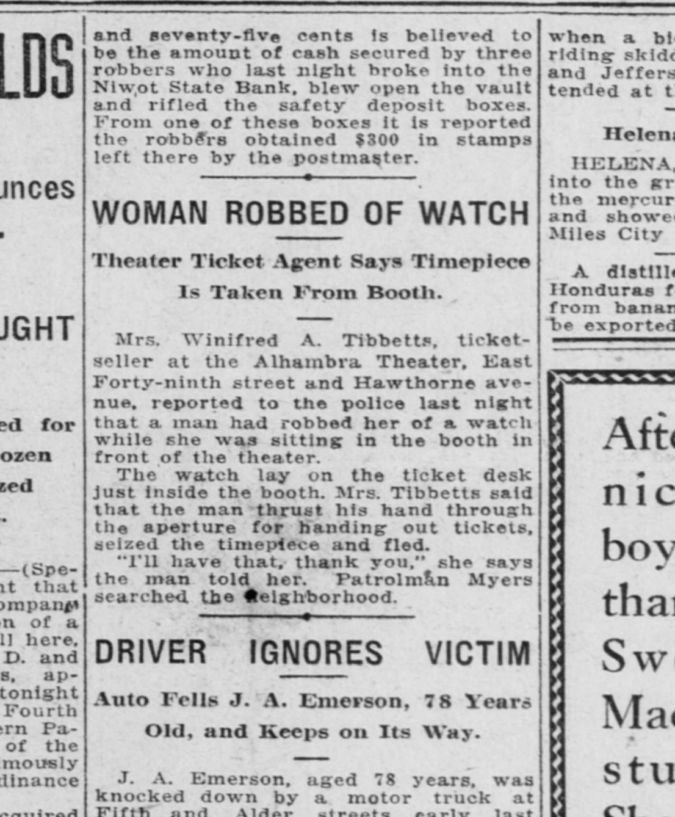 More often than not, however, in those early days of the Alhambra, you were likely to be a local neighborhood schmoe wanting to see that latest picture from Paramount that you'd otherwise have to go downtown to see, at one of the big movie palaces. That was the success of the Alhambra theater, its ability to have one foot in the neighborhood, and one foot in Hollywood.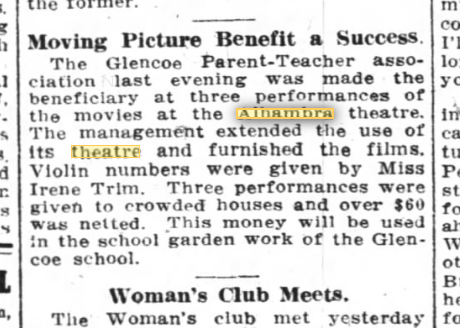 Most of the advertising from this time showed the Alhambra as part of a collective theatre in-group, established likely by the film exchanges of the day, such as Pathe Pictures, which would regularly promote the Alhambra as a second showing theater. However, there is evidence that the Alhambra was organized with other theaters beyond Pathe and Paramount's advertisements.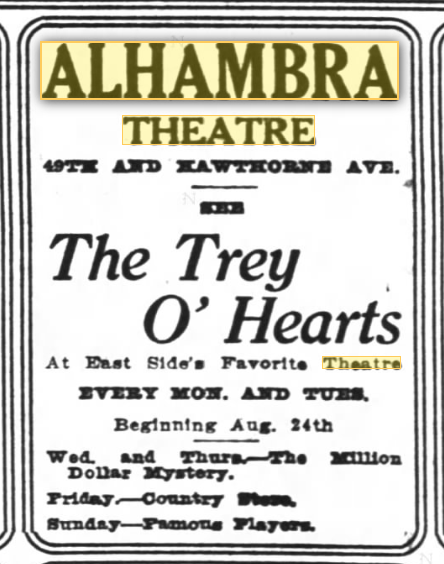 In 1921, The Oregon Daily Journal photographed a meeting during Associated First National Pictures, Inc.'s national convention that year. Pictured as being in attendance was Stephen Parker, owner of the Alhambra. There is a bit of a chicken and the egg situation here, because it is unclear which came first, participation with prominent film exchanges leading to an invite into the AFNP, or vice versa, but what is clear is that the Alhambra theater, while being a key component to its neighborhood, was also highly connected outside of it.
It was fairly difficult to determine the exact year that the Alhambra came into being, seeing as there is no mention of the theatre between 1913 and 1922 in Polk's Portland City Directories of those same years. There was also very little information in the newspapers about the Theatre, save for block-booking advertisements and a few public notices for events or minor criminality. The only time I was able to find mention of an owner or ownership was in the caption that accompanied Parker's photograph at the AFNP national convention. Also found more success using Newspapers.com, rather than Historic Oregon Newspapers, which was mostly the same series of recycled adverts over and over.