The Bagdad Theatre opened its doors on January 14th, 1927 on the southeast corner of Hawthorne Ave. (later changed to Blvd.) in a building built to suit for the theater. The theater was opened by Multnomah Theater Company and was financed in part by Universal Studios, which contributed $100,000 to the theater1. It was designed by Thomas and Mercier Architects and built by Christman and Otis Development Company2. When the theater opened it had around 1,400 seats in one auditorium with a balcony, a large stage, and a pit for the orchestra3. The building was designed in the style that would be seen in the Middle East or the Mediterranean, which is fitting for the name Bagdad. The architectural style and significant features, including the murals and decorations have not been significantly changed.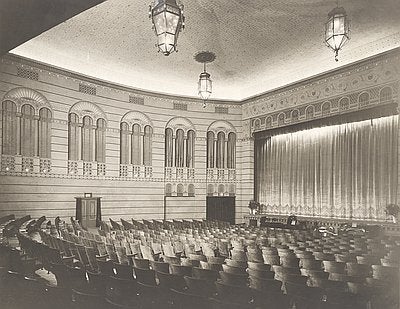 The theater's Grand Opening was a major celebration in the Hawthorne area, with dancing, music, and even searchlights to draw attention to the area4. Another major point that drew audiences to the theater was the advertisement of the musical performers and orchestra. The orchestra was led by Leon Strashin, who was previously the concert master for the Metropolitan Grand Opera, and the director of music for theaters in San Francisco and Los Angeles5. Additionally, the theater advertised their organist, Miss Helen Ernest playing on a Kimball to accompany the films6. Other performers for the opening program included the San Su Strutters (a jazz orchestra), the Portland male quartet, and Marilyn Mills and her horse Beverly7. The film Her Big Night (1926), staring Laura LaPlante, was on the opening night program through the following Tuesday night and was used as a majoring advertising point8. 
The theater has hosted two significant film premieres, the first being One Flew Over the Cuckoo's Nest (1975) which was attended by the cast, including Jack Nickolson. It was filmed in nearby Salem and the premiere was a benefit fundraiser for the Mental Health Association of Oregon9. In 1991 the theater hosted the premiere for My Own Private Idaho (1991) attended by Keanu Reeves, River Phoenix, and director Gus Van Sant who all frequented a nearby McMenamins (who eventually bought the theater) pub during filming10.
On January 16th, 1975, the theater opened its "Backstage Theater" by renovating what was previously the stage and backstage area used by the vaudeville performers11. Around the same time the balcony was sectioned off into a separate theater room. The three-room theater remained until 1991 when brothers Mike and Brian McMenamin bought the theater after their success with the nearby Mission Theater and converted the theater back to one auditorium by removing the wall separating the balcony and changed the seating arrangements to add small tables so they could serve food in the theater12. Eventually they converted the theater behind the main screen, that was once the dressing room for the vaudeville performers into the Backstage Bar.