The Circle Theater opened December 2nd, 1912 on the corner of 4th and Washington street. According to the Moving Picture World journal it housed up to 900 seats and brandished exciting new ways of combating fires- a common fear theaters at the time often faced. The theater featured a new ventilation system and concealed its lighting in order to keep the air clean and decrease the chances of any sparks catching.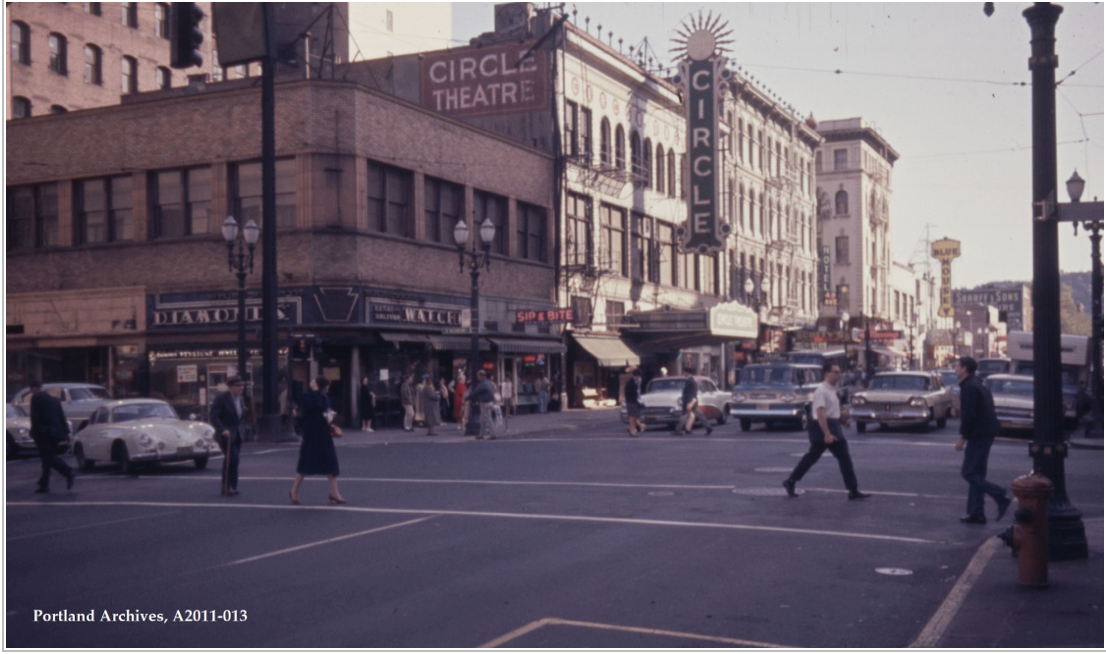 The Circle had been built with beautiful craftsmanship and was not only a place to see movies but one of a social gathering or vogue parties (1). Their business was proud to flaunt their ownership of a hidden $5,000 organ and live orchestras that accompanied the silent films each showing. The theater even kept a musical staff on hand to direct and oversee the music that was played with each movie. According to an article published in 1922, these musicians were in charge of directing the audiences emotions and thoughts throughout a viewing and even created sound affects(2). This was one factor that potentially even influenced customers to come to this particular theater due to its high caliber of musicians and their capacity for modern and classical pieces (3).
Over the course of its 52 year long career The Circle changed management three times. For the first two years of operation the theater was overseen by a Mr. C.J. Kerr. It is unclear when or why his position was switched over to a man named G.T. Holtzclaw sometime late in the year 1913 or early 1914. Holtzclaw went on the run the theater until April of 1920, when the franchise was purchased by Colonel G.T. Woodlaw. An article written about Woodlaw's acquisition explains that for the last eight years the theater ran under the jurisdiction of the Circle Amusement Company (CAC), a foundation that both Kerr and Holtzclaw had worked for during their time as managers. As it turns out was exactly the work of the CAC that was causing difficulty of the theater and what eventually prompted Woodlaw to buy (1,4,5).
The theater attracted a wide variety of audiences due to its affordable prices and access to highly sought after films at the times of their release. Admission typically ranged from between 5 to 15 cents depending on the picture, time of day, and varied by age. One significant difference that set the Circle theater apart from its competitors were its hours of operation as well as their incredibly fast turn over of programs. After its last management change the theater started staying open from 9am until 4am the following morning, a rare practice for theaters at this time (7). 
They often advertised their programs in newspapers which documented each act that would be performing each day of the week (Monday-Sunday)(6). While the theater mostly focused on motion pictures and largely recognized names of famous actors of the time, the Circle Theater also showcase many comedians and even vaudeville. Some popular names and shows included but are not limited to: Vin Comedy, J. Rufus Wallingford, Ruth Roland, George Orly, Douglas Fairbanks, Fatty Arbuckle, and most famously- Charlie Chaplin (8-12). Charlie Chaplin was extraordinarily well known at this time for his success in vaudeville and it would have been the show to see when he came to town July 28-29 of 1918 (12). Another popular theater item upon its release that screen in The Circle was the American film serial: "Exploits of Elaine," which tells the story of a Damsel in Distress and her perilous adventures. The Circle Theater was listed as the best place to see "Exploits of Elaine" in Oregon at the time because of its comforting atmosphere, well ventilated air, and roomy seating (13).
Among other interesting aspects of the Circle Theater was its presence in the LGBT community. According the the 1999 Portland Gay History Walking Tour the Circle Theater was a popular place for gay men to socialize and meet in peace without being harassed or worse; arrested (14).
Unfortunately you would not be able to visit this theater on the Gay History Tour today as it was demolished on July 17th, 1964 along with all the other buildings on the block, from the corner of Washington & Fourth to Alder & Fourth (15).