The Savoy opened in the fall of 1912 at 561 Willamette St. in downtown Eugene. Formerly the Aloha, the Savoy's new owners changed the name and shifted the programming from vaudeville-with-some-movies to a primary focus on movies with occasional vaudeville acts. J.J. (Joseph) Bryan and local businessman E.L. Campbell aggressively promoted the Savoy as "Eugene's Leading Motion Picture House" and placed regular advertisements in the newspaper to attract audiences.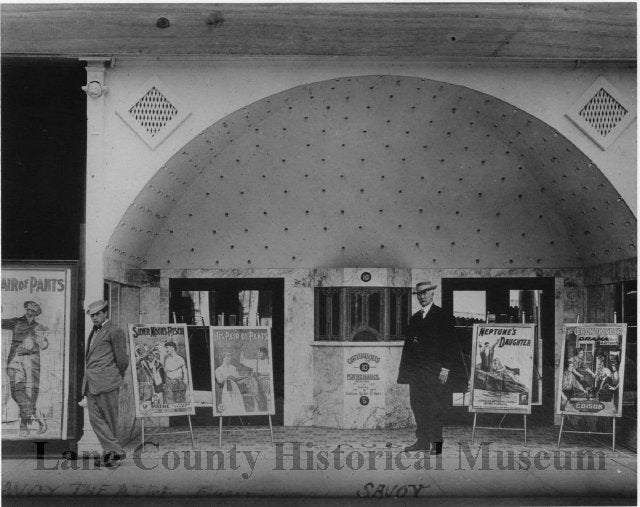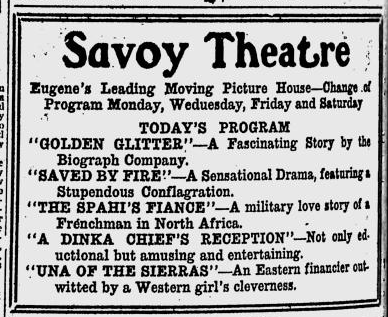 The Savoy showed all of the popular features and short films of the time, such as Charlie Chaplin and newsreels. "The Stolen Pie," a locally made film delighted audiences at the Savoy when it screened in 1915.
The daily program changed up to four times a week. Admission was set at the competitive price of 10¢ through 1916. 
One of the Savoy's unique programming strategies was to offer election returns in the theater. In an era before radio or television, one could spend an entertaining evening at the theater with periodic updates on local and national election returns delivered via Western Union Telegraph.
In 1915 the Savoy had two different distribution contracts, with V-L-S-E (supplying films from Vitagraph, Lubin, Selig, and Essanay), and Paramount Pictures later in the year. By 1916, the theater was no longer affiliated with any particular distributor, at least according to its newspaper ads.