The Shell opened in downtown Eugene at 511 Willamette St. on Mar. 14, 1910. The Shell entered a robust local theater scene that already supported four other theaters (Aloha, Bell, Dreamland, and Eugene,). Ray M. Walker, who also oversaw the Aloha at the same time, managed the theater from 1910-1912, offering a moving picture program that changed three times a week in a "house of comfort" with "good ventilation" for only 5¢ admission. Prices doubled to 10¢ in 1911 in keeping with other local theaters' prices. The theater space was long and narrow, measuring 32' wide by about 80 feet long.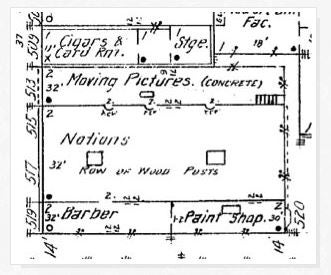 The Shell closed in July 1913.

Mr. Walker showed a variety of short films at the theater, including very popular boxing films (before they were banned in Eugene in August 1910. Walker ran regular ads in the Eugene Daily Guard to promote the theater's program.

In 1912, the Shell showed local films of the Eugene Electric Parade, a massive event with hundreds of floats and thousands of people in attendance from all over the state.