The Antlers theater was located at the corner of Jackson and Lane street next to the Elks Lodge in Roseburg Oregon. They served food items such as popcorn and held events such as matinees, moving pictures and magicians. Ticket prices ranged from ten cents to one dollar. To attract more attention, the owners painted the name on the side of the building so passing cars would see it and stop.
Ownership of the theater passed through multiple hands over its lifetime, including Mr. and Mrs. E.A. Gross, who also managed the Liberty and Majestic theaters in Roseburg. C.E. Oliphant purchased the theater in 1914 after the previous manager declared bankruptcy. Oliphant conducted renovations before reopening the business. In an article, he expressed his dedication to the town and his new theater. He said, "I shall improve the picture projecting end by immediately installing additional machinery of the latest design, a new screen will be added and set well back in the stage" (1). This shows the ongoing improvements made to the theater to keep up with the latest technology, which implies that enough patrons were coming to the theater in order for the owners to pay for upgrades.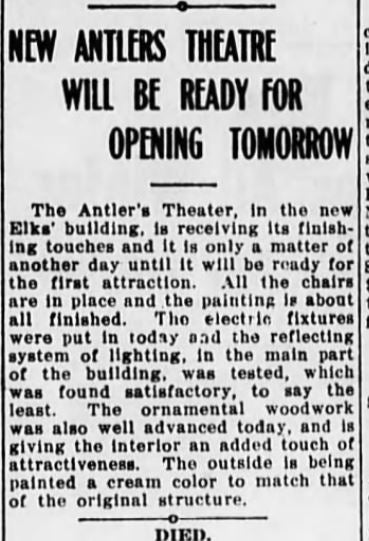 In October 1930, Antlers closed and reopened as the Indian theater, and proceeded to continue success for several more years. In 1969, the building burnt down because of a popcorn oil fire, according to one local.