Of all the early movie theaters in Eugene and Springfield, the Dreamland's name was the most poetic. The Dreamland promised moviegoers a voyage into fantasy worlds, an escape from the workaday. The theater's name belied its humble reality, situated as it was in a storefront space in bustling downtown Eugene.
Eugene cinema entrepreneur, Mrs. Martha E. Watson, ran the Dreamland theatre from 1908-1910 at 527 Willamette St., just a few doors down from the Hotel Smeede. The long, narrow space held 200 seats.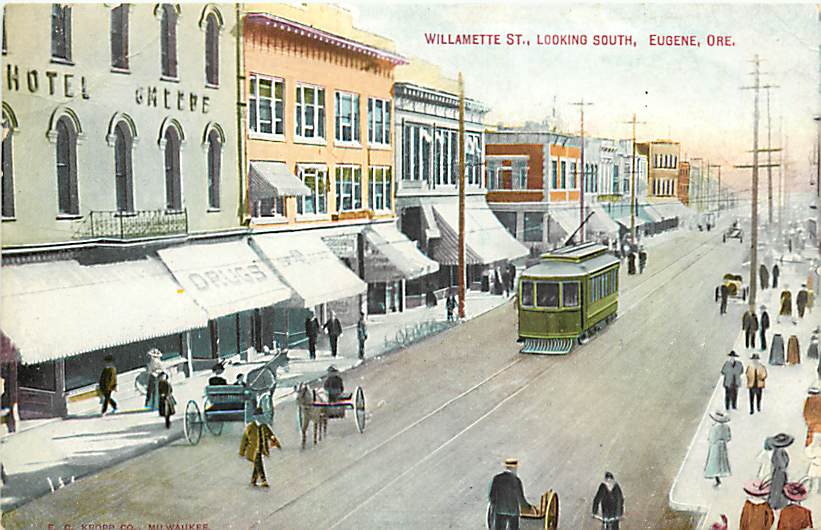 Mrs. Watson was the sole woman in the local movie business during this time. She was a widow with four young children to support. Fortunately, she was well off enough to simultaneously run the Dreamland and the Electric, and later the Folly and the Oregon theaters in Eugene.
She owned several properties in Lane County valued at over $5,000, and was frequently mentioned in the society pages of the local newspaper. She became an active member of the Eugene Equal Suffrage League in 1912.
Little is known about the movies that played at the Dreamland, except for scant information in the Eugene Daily Guard. "Mary, Queen of Scots" played in December 1908, and "Drink," ("film d'art") based on the Emile Zola novel, played in November 1909. The Dreamland boasted of having a "reginaphone" for sound accompaniment in the theater, as well as "perfect" ventilation thanks to an airshaft in the ceiling.
In September 1909, Mrs. Watson had begun construction on a new brick building a few blocks south on Willamette to house her new movie theater venture, the Folly. By April of 1910, the Dreamland's building was offered for rent, with part of the space soon to be occupied by a drug store (see the Sanborn Map below).