Very little information is currently available about the location and specific size of the Golden theater. It existed at the same time as the Majestic theater, which is believed to occupy the building at 128 Cass St., according to the Digital Sanborn Maps. Some articles note the Golden theater being located on "Rose and Cass Streets," implying the theater was located on the corner of those two streets (1). Because the language in newspaper ads is vague, the exact address of the Golden theater is unknown.
The Golden Theatre played a variety of pictures, from dramas to comedies, and even a "hand colored" Pathe film (2).
Like other theaters that existed in Roseburg, the Golden theater included a tagline in its newspaper advertisements. The Golden's catchphrase was "Just as Bright," and it appeared in many ads (3).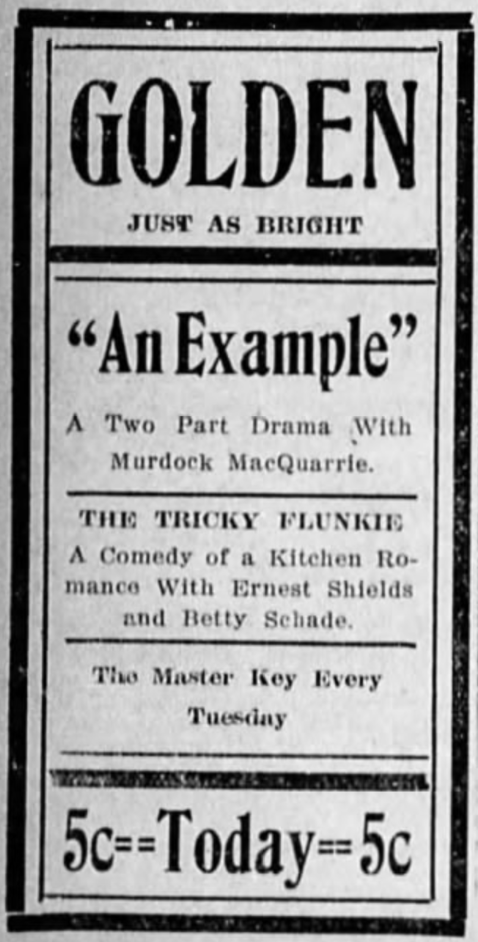 This newspaper ad promotes a collaboration with Stubbs & Perman, a local grocery store (1). The copy reads that one thousand people who shop at the grocery store will receive free movie tickets from the Golden theater. Underneath this ad, the theater paid for another block of advertising that humorously states that their "prices never change," so customers will always be able to afford to take their families to the movies (1). In fact, the Golden kept admission at 5 cents well into the 1910s, long after the "Nickelodeon" era ended.
The theater closed for several months in mid-1915 and re-opened in September under the new management of William Perman. The Golden closed for good only a few weeks later when Perman was arrested for running a gambling operation (4).