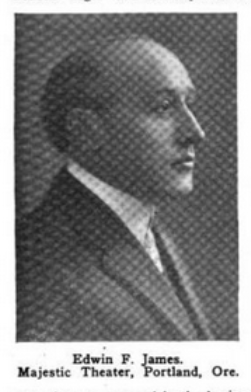 Portland, Oregon's famed Majestic Theater was opened on the corner of Washington and Southwest Broadway in 1911. The theater was owned by Edwin Jones, a Seattle business man who moved to Oregon to pursue the exhibition industry. Though Jones was new to the area when opening the Majestic, he made quite a name for himself in the coming years, becoming known for his theater residing in the "same house, same location for longer than any other exhibitor in Portland."
The Majestic also became known for being one of the first two theaters on the Pacific Coast to add live musical accompaniments to the silent films at this time. During this time, The Peoples Amusement Company monopolized on the film industry, leaving other theaters to compete for audiences. Edwin Jones' rose to the occasion by introduce organ music playing to the silent films and launched the first organ music accompaniment on the same day at The Star (the theater across the street).
Mr. Jones became known to be a man that took pride in theaters and film. He put in a great deal of effort into pre-screening all films before showing them at the Majestic. Scenes that could be seen as controversial were cut from the film. Yet, other films that officials felt were controversial, such as the film "Sapho", he found beauty and value in and had no shame in publicly fighting for the right to show it. Furthermore, he introduced unseen films to the Portland theater scene. Films such as "The Fall of Troy", which was a two-reel film and cost $150 per week to rent – a large price to pay during this time.