Heppner, Oregon, was home to its very own Star Theatre, which was known as being one of the only theaters to show moving pictures in Heppner during the early 1920's as well as being a popular public space for other forms of performance art, including popular vaudeville productions. Heppner's Star Theatre was first owned and operated by R.E. Redifer until in 1916 when he sold it to J.B. Sparks. (6) The programs at the theatre usually showed local short films and/or feature length films. The first newspaper article referring to the Star Theatre in Heppner is in May of 1912, when the Senior Graduation Class of Heppner High School held a production of the high class comedy titled "Mr. Bob." This night is special because it is the first noted showing at the Star Theatre in Heppner, but also because of the theatre's support of local community productions. The price for reserved admission was listed at the bottom of the advertisement at 50 cents per seat. (3) 
In 1919, the Star in Heppner closed down under the sole ownership J.B. Sparks, because of the Spanish Flu. Because of this, Sparks traveled to Portland to purchase photoplays to presumably use in his own theater. As of 1920, B.G. Sigsbee was the sole owner of the Star Theatre. (7) The films typically screened at the theatre ranged in genres, including comedies, drama, war, etc. Some of the titles that were showcased during the summer of 1920 include the female-leading comedies: "The Tiger Girl" featuring Lillian Gish, a D.W. Griffith Production, "Cupid Forecloses" featuring Bessie Love, "How Could You Jean" featuring Mary Pickford, and "A Woman of Pleasure" featuring Blanche Sweet. (2) 
The Star Theatre was a popular public space in Heppner during its run, however there were many other cultural activities and entertainment options for spectators searching for them in Heppner in the early decades of the 1900's. Heppner celebrated Armistice Day for years and in 1928, an ad disclosed a variety of entertainment options available to the paying public, both outdoors and indoors. (1) These other events included a big parade located at Heppner Rodeo Field, followed by the highly-anticipated auto races which were regarded as the "biggest fun making even in the history of Heppner" with a mention of prizes for the winners. Football games were also widely popular among Heppner citizens and the game Heppner vs. Hermiston was promoted in the newspaper right next to the former activity options. A super special program and picture show at the Star Theatre, starting at 7:30 pm, titled "Dress Parade" and starring W.M. Boyd lists prices varying from 25 to 50 cents. This picture is regarded as "one of the best war comedies ever produced." The promotional strategies used by the authors of the included advertisements in the Heppner Herald or The Gazette Times included good word of mouth, sensationalist or exaggerative sentences and article headers were often utilized to catch readers' attention and persuade spectators to attend such events, these business strategies often worked as entertainment forms like moving pictures gained in popularity and widespread affection. 
In 1929, the Star Theatre was remodeled and as of 1947, the Star was owned and operated by Elaine George, who inherited the theater from her mother. One of the prominent female theater owners in Oregon at the time, Elaine George who was known for controlling vandalism and pranks in her town by local youngsters by putting on such a good program at the Star Theatre that the next morning, the streets were noticeably clean and free from disruption. (9) Elaine was popular in Heppner through her family's historical significance in the community and because of her ability to bring together all ages of the population in attendance at her movie theater. In 1954, she hosted a show for GI's from Texas who were formally trained in Fort Bliss, Texas. The GI's were hosted as her guests of honor with a screening of a military genre film titled "Take The High Ground." (10)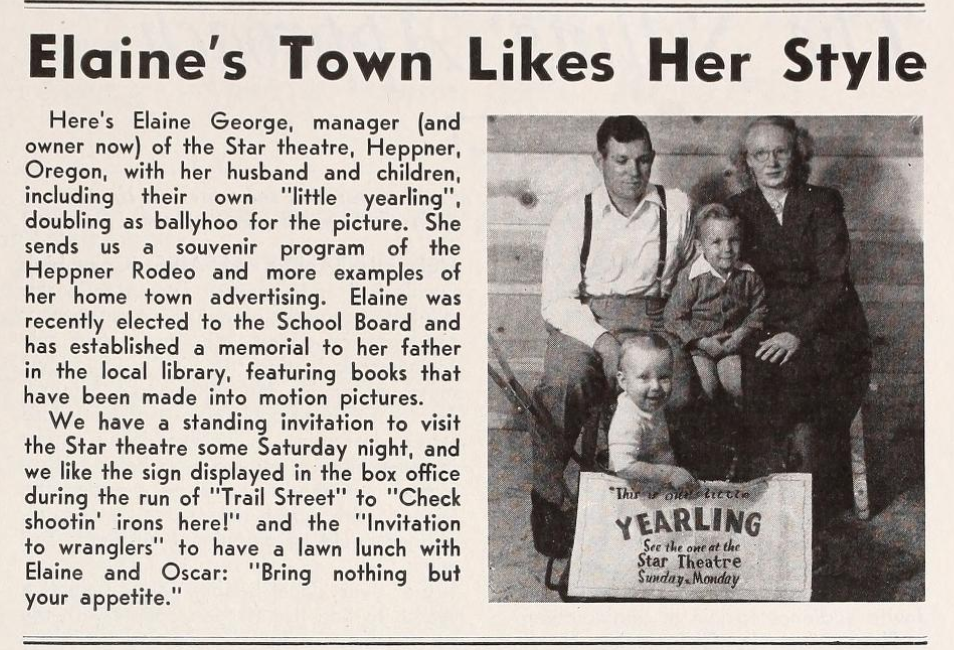 The films screened at the Star Theatre were censored by Elaine herself, even giving her personal opinions about the pictures and the reasons to see them. In a news article from August 1947, the following reasoning was quoted as being used by Elaine when certain pictures were too mature for immature audiences writing that the screening "was confined to adult suitability." (11) Elaine's theater program had a homespun atmosphere, as she would speak to the crowds herself and upheld a chatty and interesting mood. She was known for writing personal letters at the Star to prominent social figures in Heppner including school educators, authorities, music clubs and musicians. Elaine also screened home-made features at the Star Theater, and in August of 1947 she screened a picture photographed by her own father twenty years prior. The feature was noted for including "all of the inhabitants" and "everything that makes a good picture." (11)
The Star was severely damaged in a fire on May 11, 1962, and never re-opened (12).