Constructed in 1914, the Vining theater was highly anticipated amongst the citizens of Ashland. It was built under the ownership of Robert and Irving Vining, and as two well-known members of the community, the theater was to become the social hub of the city (1). Contracting architects and carpenters from across the Pacific Northwest, the theater was to be a place of class and artistry, as an article from the Ashland Tidings illustrates, "...the decorators have placed much of the stucco work which adorns the theater and are giving a foretaste of the magnificence of the interior...," (2).
After months of waiting and preparing, the Vining theater finally announced its opening night, where it would showcase the New York Opera Company's "Faust", considered to be one of the most difficult operas to perform (3). The city of Ashland would go all out for the theaters opening night, as all of the box seats were sold out before the showcase, and retailers such as Minkler's Cloak and Suit House made advertisements selling the proper 'high-class' attire to those who would be attending (4).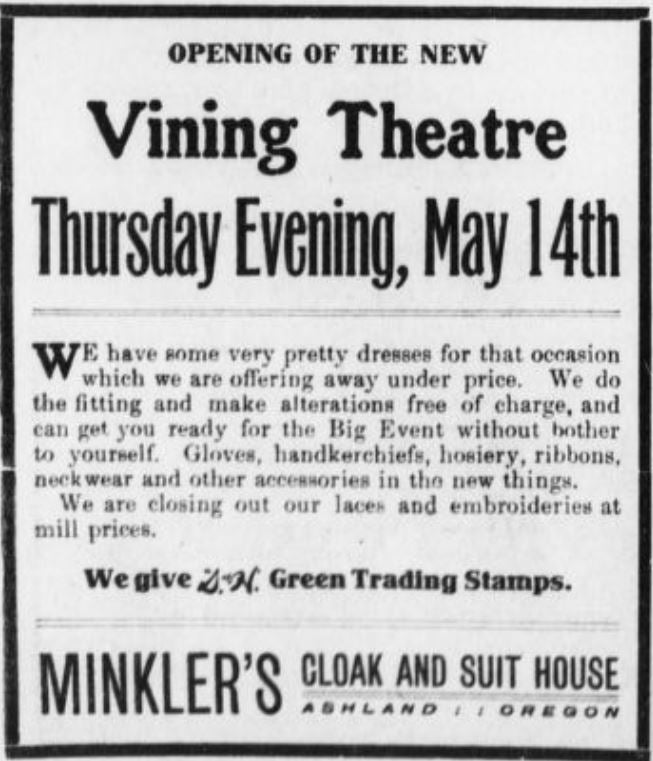 The opening night for the Vining was a huge success, as audiences coming from all over southern Oregon went to see shows in this Ashland theater. Vaudeville acts and photoplays were popular features to be shown, but this wasn't the only entertainment locals enjoyed attending. In 1917, the Oregon Agricultural College glee club performed at the Vining on their yearly tour through Oregon cities (5). A  few years later, Magician Blackstone did a show at the theater, using the 'powers of the subconscious mind' to perform his magic tricks (6). 
As photoplays became more accessible and a popular form of entertainment during the nineteen-teens and early twenties, the Vining theater capitalized on advertising for the films they showcased. One of the promotional strategies they used was revealing a local celebrity connection to young actress Mary Pickford, as the front page news article from the Ashland Tidings details Pickford being the niece of Ashlander Judge Watson (7). The theater often used Mary Pickford and her connection to Ashland as a way to promote her films being showcased, as displayed in the advertisement from the Ashland Tidings, calling her a "favorite" in town (8).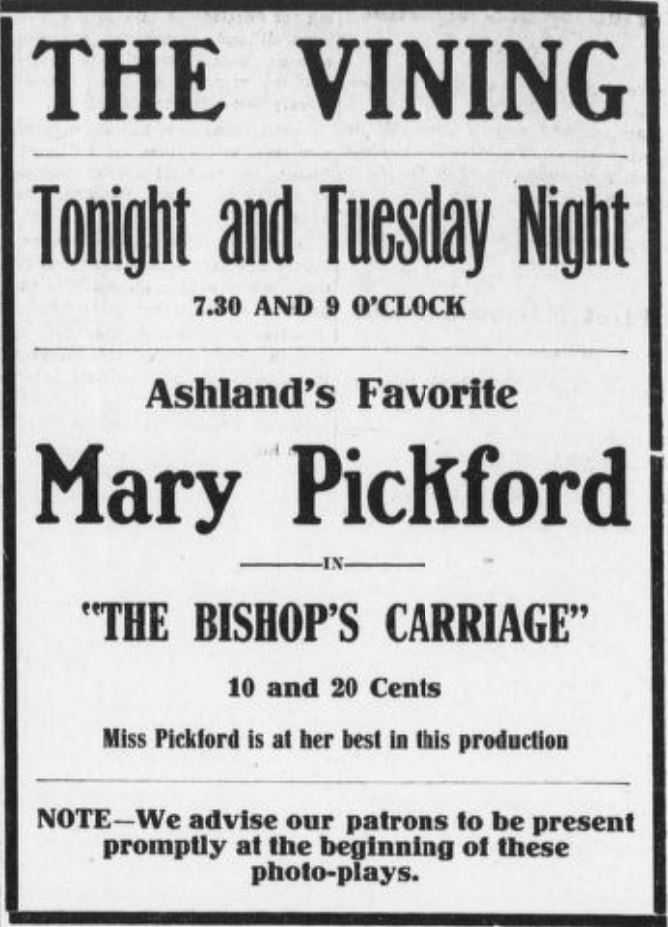 Though a local gem and popular attraction for more than a decade, the Vining theater had come to a close in 1932 after going through several owner changes over the course of its existence. Once bought out by owner H.B. Hurst in 1922 from ex-owners Mr. and Mrs. Bergner, the theaters name would last up until the spring of 1932, when the first appearance of the Hurst theater would be advertised in Rogue News on May 20th (9).