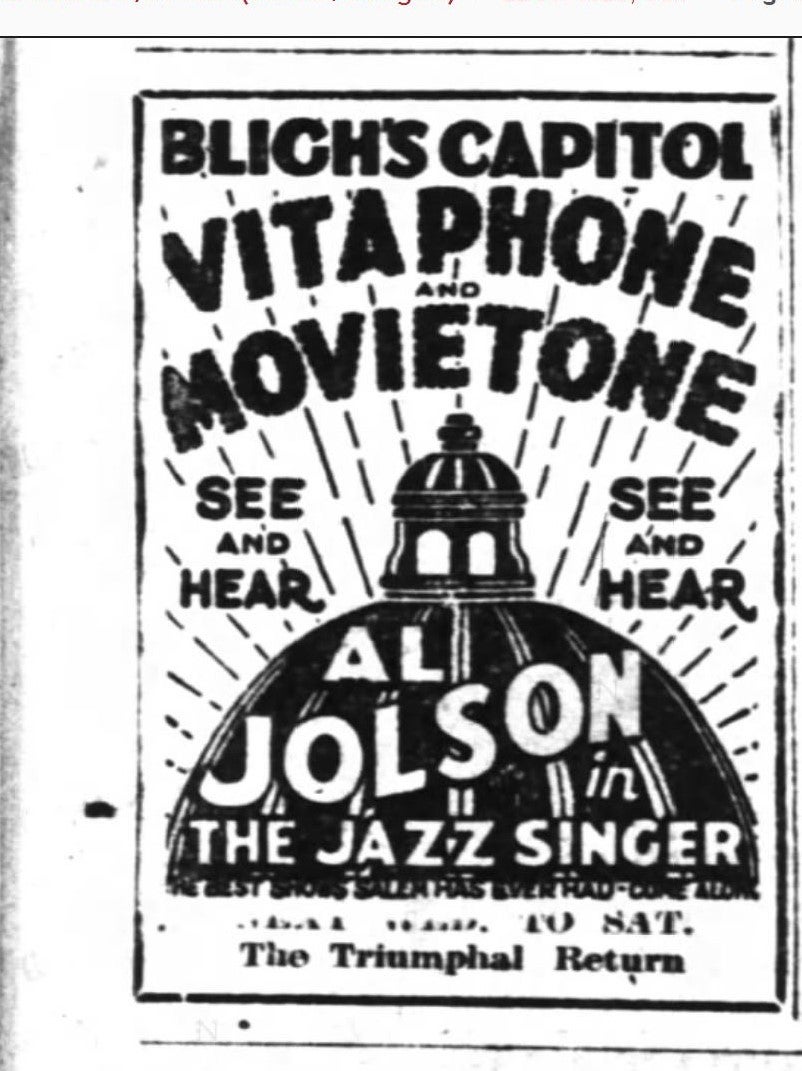 Above is an advertisement for the musical program, The Jazz Singer, at Bligh's Capitol Theatre in Salem Oregon. This advertisement was published in the Statesman Journal on 22 July, 1928.
In relation to other advertisements on the page, this one was the most eye-catching due to its boldness. A disadvantage to this advertisement is it does not have any information about the price and dates of showing. It might have been at the bottom of the advertisement, but overtime and through digitizing it's no longer there. 
This advertisement is interesting, particularly because of the program. The Jazz Singer was the first feature film with synchronized speech, which explains the use of 'vitaphone' and 'movietone' across the middle of the advertisement. The exhibitor wanted the focus of the advertisement to be on the brand new kind of program viewing in order to get the maximum amount of viewers. This also attributed to the popularity of the program. The Jazz Singer, was released in October of 1927, which means this program was available in Salem in less than a year. This further illustrates the programs level of popularity, considering the population and Westward location of Salem.
This program also had a big-time entertainer, Al Jolson. While Jolson was extremely popular among program goers, it is also important to acknowledge the racism embedded in the entertainment industry. Al Jolson did the majority of his programs in blackface, and at the time this was not a problem. Jolson used racial stereotypes, and was still considered to be the 'greatest entertainer' of the time. While blackface is not encouraged in the entertainment industry anymore, it is still important to recognize how it was sensationalized and welcomed at one point in time.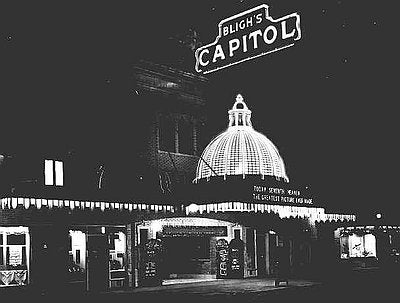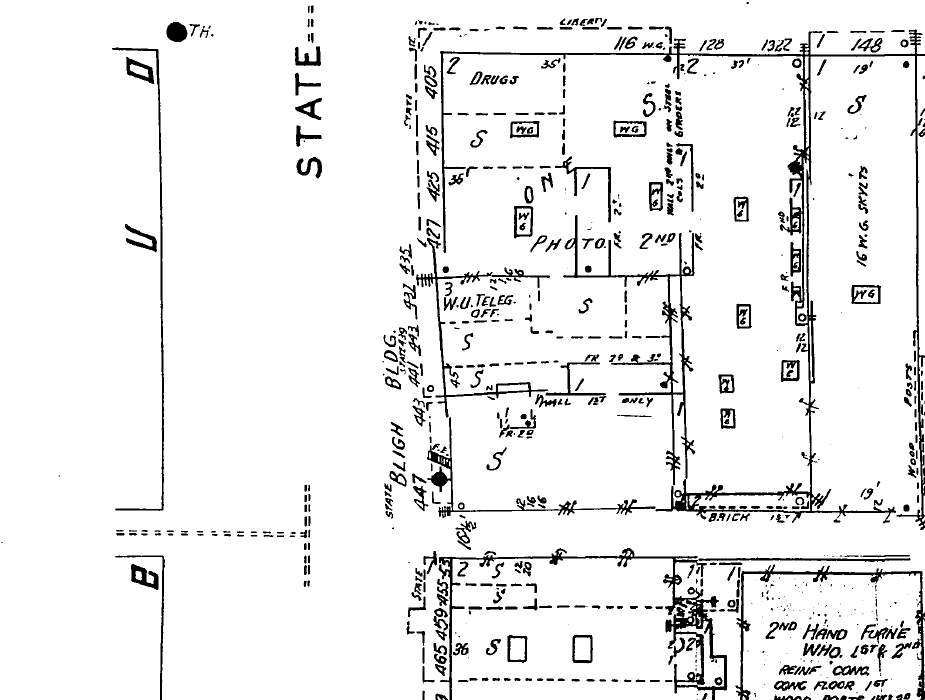 For context, Bligh's Capitol Theatre was located on State Street in Salem Oregon in 1926. It was built in 1926, and burned down in 1935. It was then rebuilt and stayed open until it was closed in the early 1990's, and eventually torn down in 2000. Throughout its lifespan the Theatre remained in the same location but the street names changed over time. 
Sources
Statesman Journal, 22 July. 1928, pg 2.
Digital Sanborn Maps. Sheet 109. Image
Portland State University and the Oregon Historical Society. "Capitol Theatre (Salem)." The Oregon Encyclopedia, oregonencyclopedia.org/articles/capitol_theater_salem_/#.WuDvEYjwZm9
"Al Jolson Biography." Biography, www.biography.com/people/al-jolson-9356888