Dorothy Jaquish was a movie theater prodigy, as this article in the exhibitors' trade journal Motion Picture World explains. When she was still a teenager, she took over running the Dreamland Theatre in remote Ontario, Oregon, after her father died in 1918.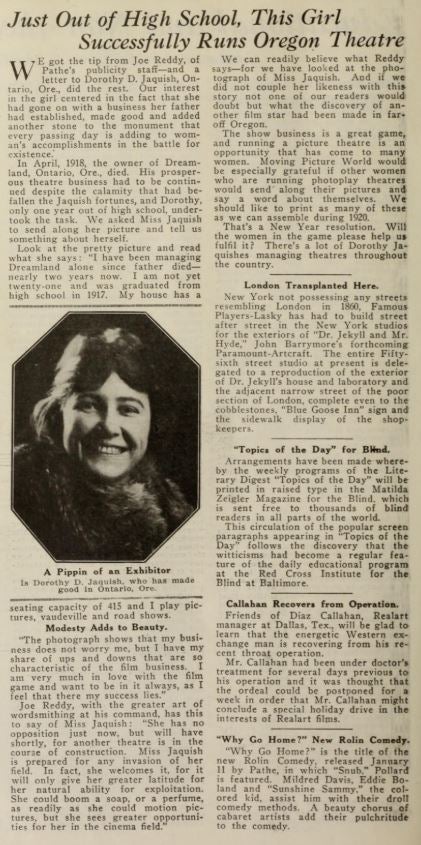 The Dreamland opened in the small (pop. 1,248 in 1910) eastern Oregon town of Ontario in September 1912, and was the sole movie theater in town through the 1910s.
Under Dorothy's management the theater continued operating even when the rival Majestic Theatre opened in 1920. A full page of ads for both theaters in the Ontario Argus newspaper show the robust level of competition for audiences. Ads for the Dreamland continued to run in the local paper through 1922 (online coverage of the paper ends in 1922), so it's unclear how long the theater stayed open, and its fate requires more in-depth research.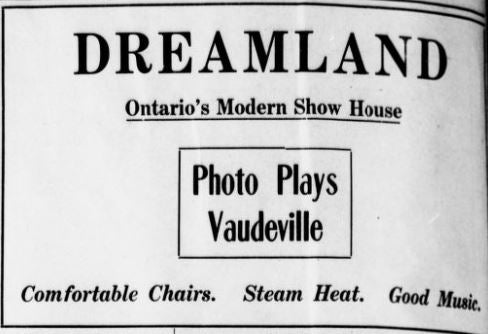 Oregon had several theaters run by women during the silent era, including the Dreamland, Electric, and Folly in Eugene, the Elite in La Grande, and the Sparks in Klamath Falls, but the full extent of women's participation in theaters in Oregon and elsewhere in the United States hasn't been fully documented, as the Motion Picture World article suggests.