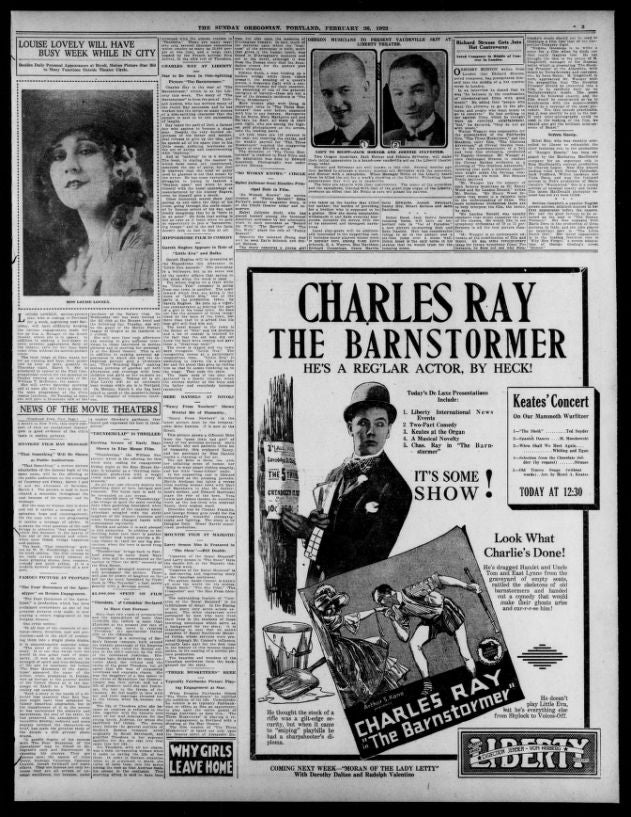 This is an ad Portland's Sunday Oregonian from February 26, 1922. The ad takes up more than half of the page and consists of two images from the feature film being shown, The Barnstormer (1922). Also included in the ad are the theater's hours of operation (11 am to 11 pm) and a program list for the theater, including newsreels, musical performances, and other films. At the bottom of the ad is information for the theater's film for the following week, boasting both the title of the film as well as the actors in it, much like how they advertised The Barnstormer. The film is also advertised as a comedy.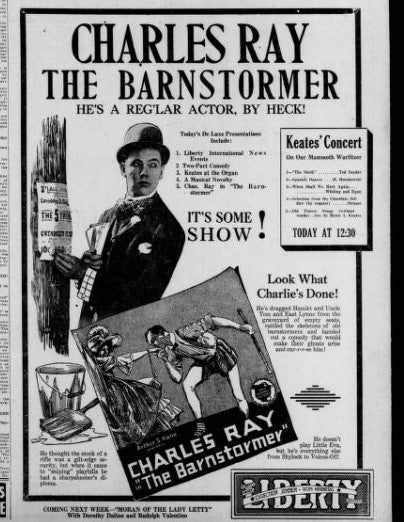 By the size of the ad and the popular actor with his accompanying film, the theater had shown that it could afford such a large ad in a weekly newspaper, reflecting the successful status of the theater.
Hardly anything is said about the film, however, as Charles Ray's image and name are given the most emphasis. The quotes surrounding the images are about either Charles Ray's acting abilities or the exploits of his character. His name is even larger than the title of the film, which implies that the actor's celebrity is a better advertising strategy than just the film itself. An article next to the ad entitled Charles Ray at Liberty - Star to be Seen in Side-Splitting Picture "The Barnstormer." Much like a trailer the article provides a brief synopsis of the film and descriptions of a few funny scenes, relaying just enough information to make the reader interested in going to Liberty Theater to see The Barnstormer.
By running this ad in the Sunday newspaper the theater is able to draw in a larger audience, because many people had Sunday off from work. The varied items on the program also helped to attract a larger number of people.
I would like to have known more about the other programs shown at the Liberty Theater, rather than just the names of them.