Located in Albany, Oregon, the Globe Theatre was a movie theatre that operated during the early 20th century. A popular attraction, it maintained a prominent presence throughout various issues of the Albany Daily Democrat. An example of its popularity is shown in an article which highlights the theatre's ability to attract a variety of well-known films as well as background information regarding the theatre's manager. Dated January 29, 1922, the article states that the Globe Theatre has acquired four films, The Three Musketeers, Way Down East, The Four Horsemen of the Apocalypse, and Theodora.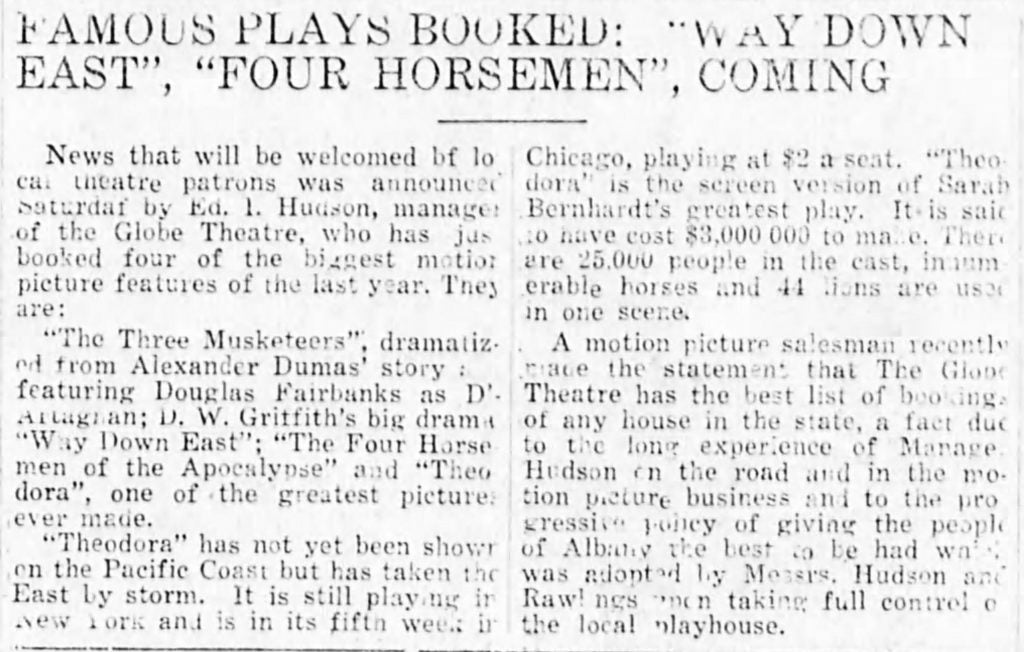 Such a feat was viewed as important due to the films being labeled as some of the biggest motion picture features of the previous year, with some not yet premiering in the pacific region. Though the acquisition of these films seems to be the articles main purpose, the decision to focus on the theatre's manager serves as a unique tactic. Ed. I. Hudson is credited for much of the Globe Theatre's success due to experience in the motion picture industry as well as dedication to providing the Albany audience with the best possible viewing experience. I believe focusing on the films provided as well as the personnel responsible for the theatre proves to be an interesting story technique, though its execution creates a facade that portrays the article as an advertisement. In order to be viewed as a feature, the article must look past the limited information regarding Hudson and answer questions of substance such as how Ed. I. Hudson came to become the manager of the Globe Theatre? How has the Globe Theatre changed under Hudson's management? In a way it is as if the article makes a small attempt at offering a behind the scenes glimpse through the mention of Ed. I. Hudson though it quickly diverts back to its original intention of acting as a promotional tool for the Globe Theatre.
In reading The Newspaper, a Cultural Partner of Movies, written by Richard Abel, it becomes apparent that there is a shift in the way individuals viewed cinema during the early 20th century. Across numerous cities, newspapers become a source of information for moviegoers, providing details such as what particular films are being shown at the local theatre as well as what actors may be appearing in these motion pictures. This is shown throughout the Albany Daily Democrat's article as it is revealed that Douglas Fairbanks will be portraying D' Artagnan in The Three Musketeers while D.W. Griffith will be directing a film titled Way Down East. The idea that local newspapers sometimes acted as "menus", sometimes ranging over a weekly or daily variety, highlights the demand for such information and provides reasoning as to why many articles are viewed as an advertisement.