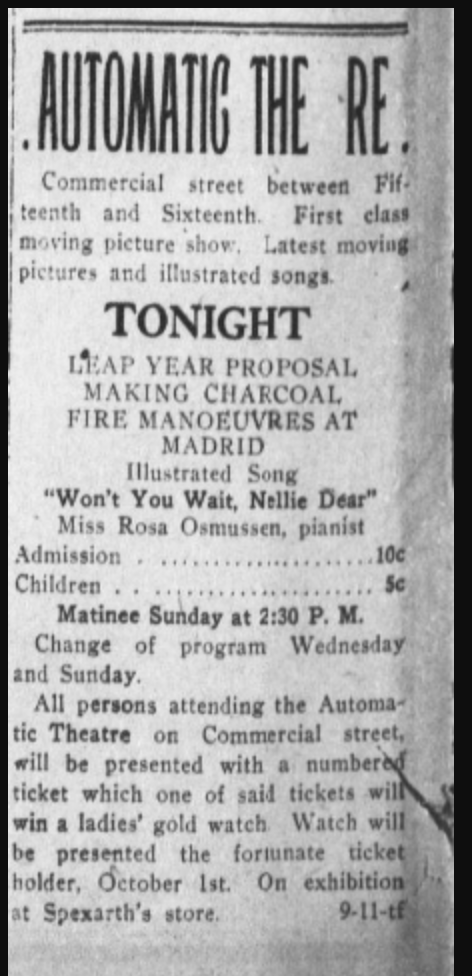 Above is an advertisement for the "Automatic The Rea" (aka, the Automatic Theatre), a theater in Astoria, Oregon, published in the Morning Astorian newspaper in September of 1908. The advertisement is both short and concise. The most important parts of the advertisement are either large or bolded to attract attention. Something else that I noticed was that this advertisement was specifically for a certain day. The word "tonight" is largely printed making sure that people understand that they do not want to miss the performance. It is hard to say if there was a limited number of showings of this performance, which consists of numerous films including an illustrated song called Won't You Wait Nellie Dear." There is a matinee showing Sunday at 2:30, but besides that, any further showing is unknown. As we discussed in class, theaters never just showed one film. There were always numerous short films and sometimes one feature presentation.
An interesting part of the advertisement was that there was an actual raffle available for all attendees of the theater. A "ladies' gold watch" would be given to the lucky person whose ticket was picked. This is a very interesting way of promoting the theater, one that I did not expect to see. This watch is obviously targeted to get woman to ask their boyfriend or husband to take them to the theater in hopes of being the lucky one to win. For that time, it is a very intelligent way to sell more tickets.
Pricing is also an important part of the advertisement. At 5 cents for a child and 10 cents for an adult, this is an affordable show compared to some of the other advertisements that I looked at. With it being so early in the 1900's. This cheap price makes sense for the time.
Finally, the last part of the advertisement I want to discuss is the way in which the advertisement explains the show. The terms "first class" and "latest" emphasize that this is a top-notch theater, and that the films being shown are not to miss. This along with the raffle gave very good reason for customers to see this advertisement and decide to go watch.