Nearing the border between the northern half of Oregon and the southern half of Washington state, lies Pendleton, a small city containing an equivalently small number of  inhabitants at just over 17,000 citizens.  The city center was built on the south bank of the Umatilla River, which travels east and west through the town. Pendleton takes pride in its rich agricultural and ranching history,  famously using the motto "The Real West." 
During the Nickelodeon era, Pendleton was home to roughly 11 theater locations across town. A paltry number of local theaters only ran for a year— the Eagle Show Shop Theater being one of them. The Eagle Show Shop Theater opened on Sunday, January 19, 1908 on Court Street and presented a series of the "Passion Play" pictures as one of its opening attractions. Will Trites, who had been involved with the Star theater on Main Street previously, was the manager of the Eagle Show Shop. It was scheduled to open on Tuesday, January 21 by A.C. Friedly, an implied business partner of Trites. In a news announcement published in the evening edition of the East Oregonian, the new Eagle Show Shop theater strived to "give excellent entertainment each afternoon and evening."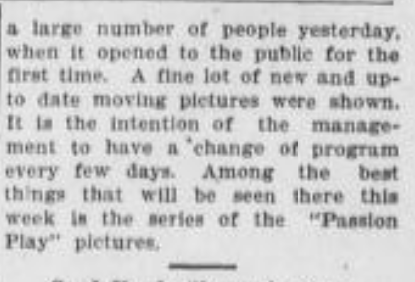 Almost every week starting January 1908 to late September of that year, The Eagle Show Shop was featured in the "Amusements" section of the East Oregonian, regularly promoting new titles they would be showing that week and the featured illustrated songs. The theater mostly charged 10 cents for general admission, similar to its theater counterparts like "The Dime '' and "The Pastime" and opened its doors to people of all ages. 
The Eagle Show Shop consistently promoted its agenda for each week, buttering up audiences with fresh attractions and promises of upscale ventilation and "new changes." Upon researching, I came across numerous instances where the theater notified readers that "new changes" were being made, however, I was unable to find a section that expanded on what changes were actually being made. I found similar verbiage used to promote attendance at "The Pastime" and the "The Dime Theater." As I continue my research, I will look more closely at how neighboring theaters promoted their businesses and examine if there was a trend. I've also recognized that there is a slightly extensive history of Pendleton being known for its ranching practices and agriculture. Based on limited knowledge, as of right now, I can infer that Pendleton, Oregon is known for hosting the annual Pendleton Round-Up; it would be interesting to see if the city's Western culture ever had an influence on the ways it promoted its theaters. 
Before starting my research on The Eagle Show Shop Theater, I assumed it would be more of a challenge gathering details and making contextual conclusions or questions regarding the history and movie exhibition due to the fact that the theater only ran for a year. Using the primary source database, Historic Oregon Newspaper, I was able to confidently search for sources using the advanced search format. I was able to refer to a list of buzzwords and make inferences on the theater. Since the East Oregonian regularly included announcements on the Eagle Show Shop's latest features/featurettes, I was able to prove that this theater existed. However, most of the short promotional ads became derivative and unvarying, making it difficult to find an interesting backstory worth noting about. Searching through East Oregonian newspapers alone may not help and I've realized that more conclusions can be made by studying up on the history of Pendleton, Oregon, its culture, and the rest of its local entertainment businesses. 
The Eagle Show Shop remains a relatively forgotten theater that prematurely, better yet, mysteriously disappeared after running for only one year. As of right now, the last mention of the Eagle Show Shop was included in an evening edition of the East Oregonian on September 25, 1908. I was unable to find closure or any context as to why and when the theater ultimately went out of business. Upon further research, I hope to answer this question. 
Works Cited: Scanlan, John. "Pendleton." The Oregon Encyclopedia, https://www.oregonencyclopedia.org/articles/pendleton/.