For Pendleton, Oregon, "the Pastime Theatre is the pioneer moving picture house in the city." Besides being able to see a moving picture, the place in which you see it has a profound effect on the viewing experience overall. According to Ina Rae Hark, "Many aspects of exhibition sites work subtly to construct he viewing experience…" (Hark 2). The ad from the East Oregonian delves into all of the fantastic qualities audiences can enjoy besides being able to see the latest moving picture.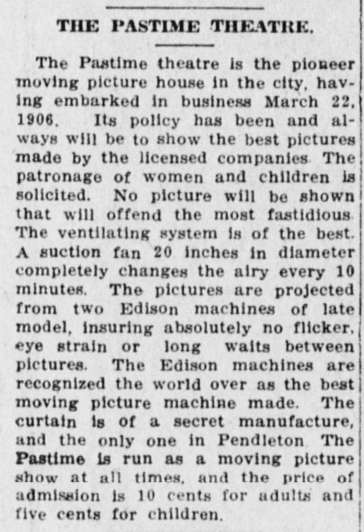 In the early 1900s, exhibitors cared little about the programs and more about the environments that housed them. Hark continues to describe that the exhibitors intent was to "…[overwhelm] their customers with elaborate architecture and interior furnishings…live stage shows…" (Hark 4). Inside, it was lively; sounds of laughing and music playing made the theater anything but silent.
The ad continues to list its own shining qualities to draw audiences to choose the Pastime Theatre as their moving picture house. Before boasting of its Edison Machine: "…recognized the world over as the best…" it highlights the use of a large suction fan that filters the air every ten minutes, and that their curtain's origin is a secret of great importance. In short, the ad speaks more to the environment of the theater and its glorious new technology and finest details that makes going to see a moving picture worth the price of admission.
In fact, the Pastime Theatre is the only theater in Pendleton to show moving pictures at all times for the price of ten cents for adults and half of that for children. It was important that the Pastime Theatre stand out, and the ad reaffirms its "onlyness" by emphasizing the latest and greatest: the use of two Edison machines-not just one, filtered air, and a promise for no waits between films, or eye-strain from flickering projections. This is truly the greatest in moviegoing.
Sources
Hark, Ina Rae. Exhibition, the Film Reader. Routledge, 2002.