Dan L. Sharits was an enterprising and ambitious manager of the Star theater (1911-1918) in Medford, Oregon, who leveraged his movie theater experience into a career making pictures in Hollywood.
He recounts his Horatio Alger story in a 1916 piece in Motography, "From Usher to Exhibitor." In 1906, he started as a humble usher in Memphis, Tennessee, but in no time he became "chief operator." After touring the country as a vaudeville performer, he landed in southern Oregon to manage the Star. The Star had plenty of competition during Medford's boom time in the 1910s, so Sharits used several inventive strategies for attracting audiences, including attaching an electric sign on the top of his car and playing orchestra bells while driving around town.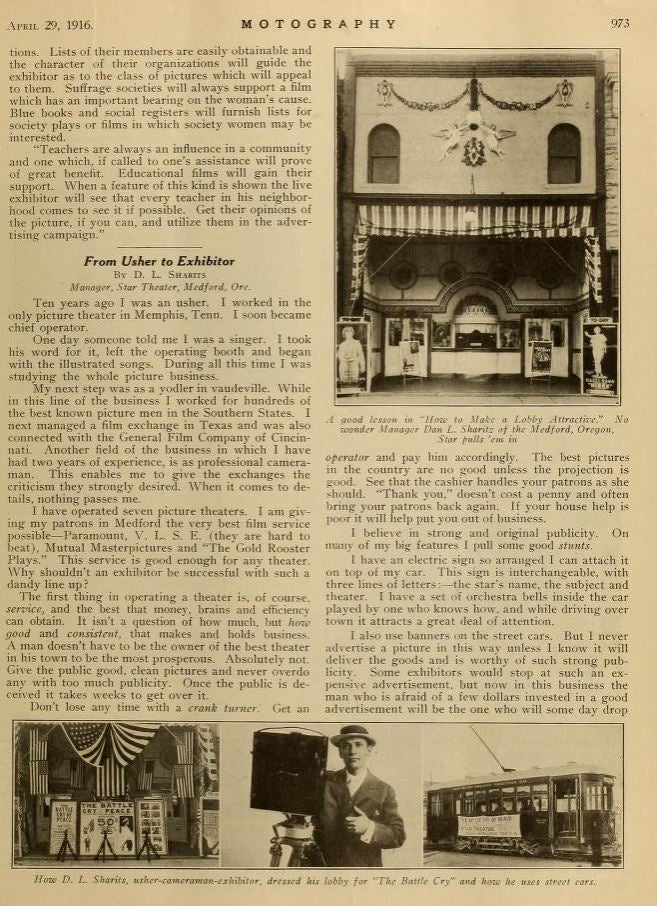 The "Live Wire Exhibitors" column in Motion Picture News carried the following item about his novel gimmick to promote The Battle Cry of Peace in 1916 by draping all of the city's streetcars with banners, along with a giant flag across Main Street.
Sharits started making local movies as another draw for audiences, who would flock to theaters to see themselves on screen. Among these was a feature length film called "The Stolen Pie," which he seems to have started making in 1914 in Louisiana and Kansas. Sharits brought the formula to Eugene in the summer of 1915, where it was pitched as an advertising film featuring prominent local citizens. "The Stolen Pie" screened at the Oregon theatre. The next summer in 1916 Sharits replicated his success in Klamath Falls and Medford
He continued his program of self-promotion with an ad for himself in Camera! magazine. By 1922 he was working as a cameraman in Hollywood, and continued as a film editor on several films in the 1920s.