On September 4, 1920, the Capital Journal in Salem, Oregon, posted an ad for the black and white silent film, Everywoman. The ad portrays pictures of all the actors and actresses, including lead actress Violet Heming at the top center, proclaiming the presentation of the film by Jesse L. Lasky and "A Paramount Artcraft Picture." According to the American Film Institute Catalog, the film was about 7 reels long, with a publication date of December 1919. The original publication date provides the information that Everywoman took almost a year before reaching the town of Salem for a showing, also shown by the date of the published advertisement.
The Capital Journal ad then describes Everywoman as "The imperishable Story of a Woman's Heart – The sublime spectacle of lavish beauty. The Picture Beautiful Beyond Words." Following the film description is a list of prices; 50 cents for the lower floor and balcony, 35 cents for the gallery, and 15 cents for children.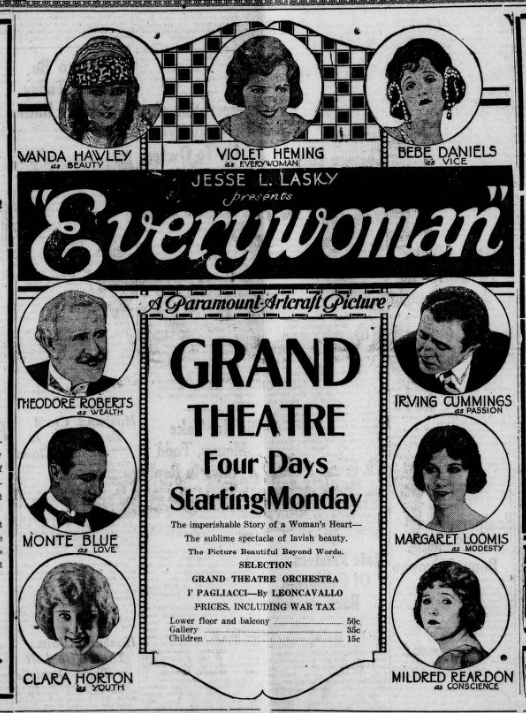 This film was to be played in the newly renovated Grand Theatre, previously known as the Grand Opera House, as told in a previous Capital Journal article almost a month prior to the Everywoman newspaper ad. This begs the question, was Everywoman the first film to be shown in the brand new Grand Theatre? The timeline would match up, with the article announcing the renovation published on August 12, 1920, and the ad for Everywoman published on September 4, 1920, giving a little over a month for renovation and enough time to advertise the first feature to be shown. If this theory is correct, then it would also tell us that Everywoman was a relatively successful film, as the owner of the advertisement and newly renovated theatre would want to start off with a popular showing in order to create some excitement in the city and some revenue for the Grand Theatre.